BRANOpac's VCI films marketed under the BRANOfol brand offer outstanding corrosion protection for your products. As metal parts no longer need to be oiled before packaging, they are ready for use as soon as they are unpacked.
Thanks to their transparency, VCI films are ideal for export use. As a result, it is no longer necessary to open packaging in order to conduct a spot check in customs – thus ensuring that VCI protection is maintained throughout. The entire manufacturing process for BRANOfol products is monitored using the strictest testing criteria in our own development laboratory. Here, we apply state-of-the-art analytical methods, from formulation and master batch production to the final inspection of the finished film – all with the ultimate goal of protecting your products.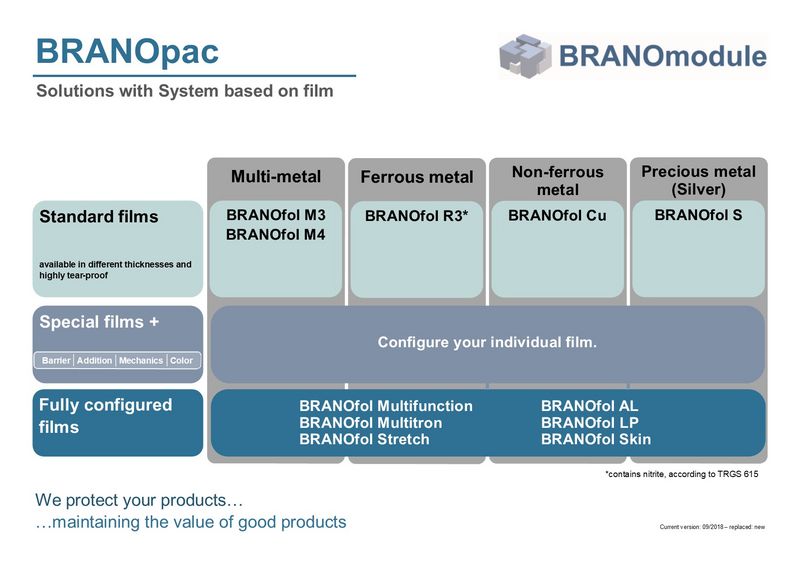 Bundled know-how from R & D and technologies by BRANOpac come together in the BRANOmodule, the new principle in the film area that creates boundless possibilities of customized film development to fully meet customer needs.
In our range of standard films that are available in different thicknesses and also as highly tearproof versions there is the possibility of choosing between different types depending on the metal kind that has to be protected.
The area of our special films + deals with completely individual demands to create a film especially suited for your purpose. The following parameters will help you to create an own film:
After choosing one batch-system for the protection of different metal groups, further barrier layers, additional characteristics, the mechanics of the film and the color can be defined. Depending on your application area you will receive a film that exactly matches your demands. Our experienced staff from the research department – employees who know the characteristics that are needed for many individual applications – will offer you the support you need and is happy to consult you in your individual film configuration.
In the area of the fully configured special films our product range covers films that have been configured by experts from the application technique at BRANOpac for special demands and been included into our standard selection.
Your advantages of the BRANOmodule at a glance: